Regarding the Display of Shimano Di2 Electrical Gear Shifting System Information
December 10, 2014
Features
Gear Shifting Information is displayed on the cyclocomputer.
Gear Shifting Information is stored in the Log File and can be used in the Cyclo-Sphere Web Based Analysis Service.
About the Di2 System
DURA-ACE 9070
ULTEGRA 6870
ULTEGRA 6770
Required Additional DI2 Parts
・Wireless Transmitter Unit
SM-EWW01
・E-tube Cable
EW-SD50
Required Software Version for DI2 Master Unit
・Version
DI2 Master Unit(SM-BMR1、SM-BMR2、SM-BTR2) requires that the software be of version 2.3.0 or above in order to control the Wireless Transmitter Unit. If necessary, please update the software version to 2.30 or above.
・Checking the software version
Download the E-tube ProjectApplication from the site given below. This can be used to check and update the system software version.
http://e-tubeproject.shimano.com/
An SM-PCE1 or SM-BCR2 is necessary to connect the DI2 to your PC. Please consult your dealer for instructions on how to check and update the system software.
CA500 Operation
Change gears to activate the DI2 system.
From the [Sensor] menu, select [Connect New Sensor] to enter the new sensor connection menu.
Select the device type [Shimano Di2] and press [Search]. Connection should complete very quickly.
Gear information can be set for each bike.
By setting this information, precise gear rations can be shown on the CycloComputer.
The menu for setting this is found as follows;
[Setting] - [Bike Setting] - [Select Bike] - [Gears]
[Model]:Select an 11 speed or 10 speed gear system.
[Chain Ring]:Select the [Outer], then [Inner], Chain Rings.
If the correct number of teeth is not available, it can be set instead from the Gear Details.
[Sprocket]:Select the [Top] and then the [Low] gears.
[Gear Details] allows examination of the sprocket arrangement. Also, if a sprocket used does not match one of the preset arrangements the number of teeth can be set directly.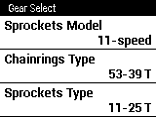 ・Graphic Display
From the [Data Field Type] menu, select [Gear Graph].
The [Display Type] can be selected from [Front/Rear], [Front], and [Rear].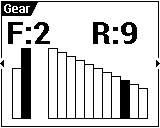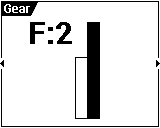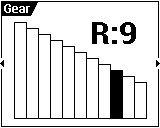 There is a limit to the types of Data Field that can be shown as [Graph].
Please refer to the User's Guide,
Application > CycloMeter > Layout Pattern List > Layout Pattern Data Fields (Page33)
・Numerical Display
In the [Data Field] menu, select [Di2].
In [Data Category], select from [Front/Rear], [Front], and [Rear], [Gear Ratio], and [Battery].
If any of [Front/Rear], [Front], [Rear] is selected, the [Display Type] can be chosen from [Gear Position] and [Gear Teeth Count].