Operation and Setting of the Menu Button
January 14, 2015
Features
The MENU button operation can be programmed by the user to interchange the functions of the short and long push.
Operation on the CA500
The following item appears in the setting menu.
[Setting] - [Device] - [Menu Button]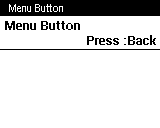 Select [Menu Button], and select the operation desired.
The short push and long push of the menu button can be set to the following operations.
Setting 1
Short Push:Menu
Long Push:Back
Setting 2
Short Push:Back
Long Push:Menu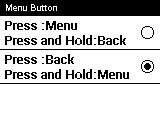 The Default setting is Setting 1 above.