Regarding the firmware update of the SGX-CA500
July 6, 2016
In order to ensure you receive the most accurate and enjoyable experience from your SGX-CA500 Cyclocomputer, please confirm the content of the changes and update your Cyclocomputer to the latest version of the Firmware.
Main improvements
・Update a Training Stress Score (TSS) calculation algorithm.
・Add a new numerical data field "Real Time Interval Intensity".
- This data is a new indicator that display the intensity of the training in real time.
- Easily training with a power meter by using this parameter as a training target.
- Please use this parameter as a guide of training intensity and duration to target 70 to 90%.
It shows the highest ratio of the interval intensities which are calculated in real time.
The lower left corner of the data field is automatically updated to show the highest time of real-time interval intensity.
The numerical value is increased depending on the duration. When updating the MMP, this value will be 100% or more.
- You can option display from the following categories.
◇Data Field: Numerical
◇Data Category: Power Training
◇Data Type: Real-time Interval Intensity
- Note
◇Using this parameter requires Pioneer Pedaling Monitor Sensor or ANT+ power meter.
◇Please set each MMP data in Rider Setting by the following operation.
 ●Menu – Settings – Rider Setting ◇You can download the MMP data for the past three months from the Cyclo-Sphere by the following operation.
 ●Menu – Option – Wi-Fi Connect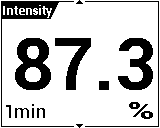 ・Support new training assist menus to be updated.
Update method
Use the update procedure below to update your firmware.
◆The update procedure using Wi-Fi is here
◆The update procedure using Cloud Connect (Windows) is here
◆The update procedure using Cloud Connect (Mac) is here
The firmware update requires from 20 to 30 minutes in a high speed Internet environment.
Version of firmware after update
Version of firmware : 20160706.02.52
You can check the version of your firmware as described below.
Confirmation procedure : [Settings] - [System] - [Firmware Version]
Precautions
・Confirm that there is enough power remaining in the Cyclocomputer's batteries.
・Do the update in an environment that has a stable internet connection, that is not subject to interruptions.

Inquiries are accepted by mail form.
Please enter your query here.