Regarding the firmware update of the SGX-CA500
April 18, 2017
In order to ensure you receive the most accurate and enjoyable experience from your SGX-CA500 Cyclocomputer, please confirm the content of the changes and update your Cyclocomputer to the latest version of the Firmware.
Main improvements
・Delete Training Assist Menus and new name editing function
- After downloading training assist menus that you created on your smartphone from Cyclo-Sphere to your SGX-CA500, you can delete completed or unwanted training menus and edit the name.
- MENU > Training > Training Assist, press the "Edit Menu Name" button found just under the "Start Training" button for the selected training menu, a keypad is displayed allowing you to edit and change the name of that Training Menu.
- You can delete it from the list by pressing "Delete" button.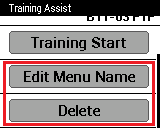 ・Change the minimum value of tire circumference
- This feature allows you a wider range of tire circumference options for smart roller tables that require set-up with ANT + speed sensors.
- Change the minimum value of the tire circumference from 100 mm to 1 mm.
・Log Data Date change function
- you can manually correct the date of a log file when logging may have been started before the date was set correctly ie. First ride or after the computer was initialized.
- MENU > Options > History Viewer, select the workout with a date you want to change and press the "Edit Date & Time" button above the "Delete" button at the bottom.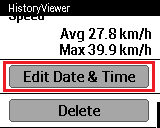 ・Specification change of ANT+ power transmission function
- ANT+ Power meter can not be connected when using the Power transmission function.
Until previous version, while sending, "Power" was erased in the device type on the sensor list and new sensor connection, but it is grayed out without deleting it from the list.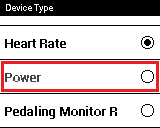 Update method
Use the update procedure below to update your firmware.
◆The update procedure using Wi-Fi is here
◆The update procedure using Cloud Connect (Windows) is here
◆The update procedure using Cloud Connect (Mac) is here
The firmware update requires from 20 to 30 minutes in a high speed Internet environment.
Version of firmware after update
Version of firmware : 20170418.02.56
You can check the version of your firmware as described below.
Confirmation procedure : [Settings] - [System] - [Firmware Version]
Precautions
・Confirm that there is enough power remaining in the Cyclocomputer's batteries.
・Do the update in an environment that has a stable internet connection, that is not subject to interruptions.

Inquiries are accepted by mail form.
Please enter your query here.