Regarding the firmware update of the SGX-CA500
November 21, 2017
In order to ensure you receive the most accurate and enjoyable experience from your SGX-CA500 Cyclocomputer, please confirm the content of the changes and update your Cyclocomputer to the latest version of the Firmware.
Main improvements
・Sprint Detection
- Ride data during a Sprint can be automatically recorded in high density 2 x per second sampling. (Normal sampling is 1 x per second)
- Based on a riders individual 10 second and 30 second MMP parameters, the Sprint Detection function starts when the riders real time interval intensity is over 90%.
- Sprint Detection is activated when a riders maximum average power of 10 seconds and 30 seconds is displayed.
- Sprint Detection data can be analyzed in the "Cyclo-Sphere" PC version from about 1 minute before and after Sprint Detection was engaged.
- [MENU] - [Settings] - [Logging] - [Sprint Detection]
Check the box.
- When the Sprint Detection function is enabled, a "S" icon is displayed on the task bar of the main menu.
- By synchronizing a riders parameters with "Cyclo-Sphere" via Wi-Fi, MMP parameters for the past 3 months of accumulated log data are downloaded.
[MENU] - [Option] - [Wi-Fi Connect] - [Parameter Sync]
- When "Sprint Detection" is enabled, the pedaling monitor sensor battery life may be shortened by 10 to 15% from about 180 hours.
(Left) Power graph in time without Sprint Detection, (Right) Power Graph in time with Sprint Detection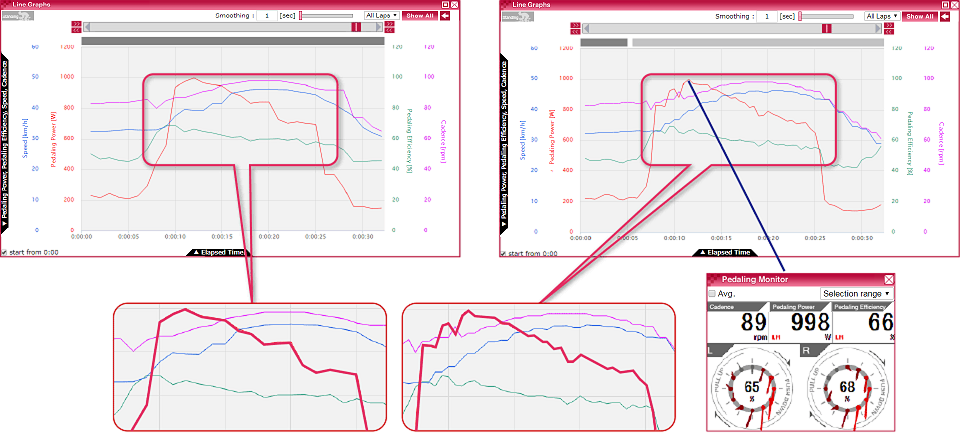 ・Update the Pedaling Monitor Sensor Firmware
- The pedaling monitoring sensor firmware has been updated.
- Please click here for Firmware Update instructions.
- Sensor firmware version : Ver 6.034
- When updating the Pedaling Monitor sensors firmware, please be sure your cycle computer is fully charged and replace each Pedaling Monitor sensor battery with a fresh new one.
- If the Firmware Update does not complete normally, the LED of the pedaling monitor sensor or sensors will blink green and normal connection with the cycle computer will be interupted until the Firmware update is completed.
- If the LED is blinking green, bring the cycle computer closer to the pedaling monitor sensor and try the update again.
Update method
Use the update procedure below to update your firmware.
◆The update procedure using Wi-Fi is here
◆The update procedure using Cloud Connect (Windows) is here
◆The update procedure using Cloud Connect (Mac) is here
The firmware update requires from 20 to 30 minutes in a high speed Internet environment.
Version of firmware after update
Version of firmware : 20171121.02.58
You can check the version of your firmware as described below.
Confirmation procedure : [Settings] - [System] - [Firmware Version]
Precautions
・Confirm that there is enough power remaining in the Cyclocomputer's batteries.
・Do the update in an environment that has a stable internet connection, that is not subject to interruptions.

Inquiries are accepted by mail form.
Please enter your query here.